Screwples (1979)
Country:
USA
|
Director:
Clair Dia
Language:
English |
Subtitles:
none
Aspect ratio:
1.33:1 |
Length:
70mn
Dvdrip Xvid Avi - 640x464 - 1.28gb
Starring:
Kandi Barbour
...
Nancy Martin (as Kandi Barber)
Laurien Dominique
...
Deck Girl in Jeans (as Lauini Dominique)
John Seeman
...
Deck Guy in Blue (as John Seemen)
Miko Yani
...
Topless Girl by Pool
Kyoto Sun
...
Girl by Pool (as Kyoto)
Richard Pacheco
...
Deck Guy in Orange (as Dewey Alexander)
T.J. Carson
...
Deck Girl in Bikini (as Kathi Adair)
Dolores Tenorio
...
Jabe (as Delores Tenorio)
Andrea Lange
...
Girl with Jabe (as Audrey Lang)
Valerie Darlyn
...
Fran (as Vallerie Darlyn)
A news reporter is sent out on the street to inquire about people's sexual fantasies.
Former adult film actress Clair Dia (3 AM, THE JOURNEY OF O, DESIRES WITHIN YOUNG GIRLS) made two films as a director at the twilight of the '70s. On the one hand there was THE HEALTH SPA, a thoughtful exploration of female sexuality – courtesy of such extraordinary ladies as Kay Parker, Abigail Clayton and the underrated Phaery I. Burd – against the backdrop of then just becoming fashionable gyms doubling as swing clubs, that did a much better job than the similarly themed mainstream John Travolta/Jamie Lee Curtis vehicle PERFECT by the way. If that was a movie that pushed at least a few of the genre's boundaries at the time, then Dia's companion piece appeared to be a far more conventional carnal confection, firmly adhering to time-honored "loop carrier" construction. See my notes under HONEYPIE for a more thorough explanation of that last term. This does not mean that SCREWPLES is a bad little flick or can even be called a disappointment as it works just fine when taken on its own terms.
Ace TV reporter Nancy Larsen (an irresistibly perky Kandi Barbour, the confused switchboard operator from Cecil Howard's PLATINUM PARADISE) gets the assignment from her secretly smitten boss Jake (Gary Baron, whose only other credit seems to have been a bit part in Fred Lincoln's SERENA, AN ADULT FAIRYTALE from that same year) at the BART network to go out on the street and interview everyday people about their secret sexual fantasies which will then be acted out in front of the cameras for television transmission. Considering that cable TV was still pretty much in its planning stages at the time of shooting, any semblance of reality very much takes a backseat here. The premise does allow for some well-shot and quite erotic sex scenes to unfold with the invaluable help of a cult cast that will have longtime fans salivating at the very mentioning of some of their names.
After a throwaway bit involving a very youthful Jon Martin (Veronica Hart's virginal trick in Gary Graver's brilliant AMANDA BY NIGHT) with "Audrey Lang" a/k/a THE SHOPPE OF TEMPTATIONS's Andrea Lange who romp in front of the TV set while Kandi's on, we get down to serious business with Mimi Morgan, the pre-operative Eve (with Marilyn Chambers of course portraying her post-operative alter ego) from the Mitchell Bros. classic THE RESURRECTION OF EVE, conducting a scorching three-way with lanky Blair Harris and some curly-haired guy unidentified by any source at my disposal. This kind of scene would now be referred to as a b/b/g (short for boy/boy/girl) but was then more commonly known as a "queen triad", just to show that times don't always change for the better. The mirror image as it were, a "king triad" indeed, comes up next with massively endowed Ken Scudder (Jesie St. James' blind piano tuner from Sam Weston's excellent EASY) gorging himself on the exotic attractions of both Kyoto Sun (from Gerard Damiano's FANTASY) and one Dolores Tenorio.
Superstars as well as real life lovers at the time Serena and Jamie Gillis perform their trademark turnabout S&M antics, taking turns at playing the dominant and submissive roles for an elaborate sequence that should profoundly satiate their fans and wow newcomers still unfamiliar with their kinky repertoire. Valerie Darlyn, the sharp-nosed girl who co-starred in Jeffrey Fairbanks' FANTASYWORLD and Tom Janovich's SMALL TOWN GIRLS, occupies the obligatory Sapphic spot with buxom blonde Cris Cassidy – formerly known as "Suzette Holland", a Sam Weston discovery featured in both his SEX WORLD and EXPECTATIONS – that proves to be a highlight due to the women's contrasting physique and the sheer intensity with which they tear into one another.
A friendly foursome supplies the next mathematical combination with the late Laurien Dominique, star of Godfrey Daniels' wonderful SUMMER SCHOOL, sparring amicably with minor league starlet T.J. Carson (from Lenny Kirtman's FEMALE ATHLETES and INSIDE DESIREE COUSTEAU) over the affections of stalwart studs Richard Pacheco and John Seeman in a scene that's warm like a woolly jumper when most viewers would prefer for it to sizzle. Unsurprisingly, Barbour and Baron provide the capper and chemistry that has been building up between them over the past hour or so assures it's a pleasant enough to tie up whatever loose ends might still have been dangling.
Like most loop carriers, this one offers a mixed bag with something for just about everyone. Dia does a creditable job keeping the heat at a fairly constant level with plenty of attention towards female enjoyment of the sex acts on display. From a production point of view, it's a relatively polished affair with bright, colorful cinematography, some snazzy editing and a deliciously eclectic soundtrack that grooves along infectiously with each lewd gyration. Perhaps not an adult film for the ivory tower connoisseur who strictly swears by the more cultured carnality of a Radley Metzger, but a delectable treat for the true genre aficionado nonetheless.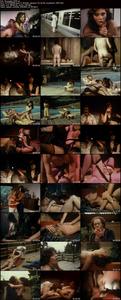 Screwples (1979)