The Big Con (1975)
Country:
USA
|
Director:
Jerry Denby
Language:
English |
Subtitles:
None
Aspect ratio:
1.33:1 |
Length:
72mn
Dvdrip Xvid Avi - 640x480 - 716mb
Starring: Jennifer Jordan, Harding Harrison, Francis B. Dobbs, Eric Edwards, Alan Marlow, Felicity Browning, Robert Lear, Kevin Andre, Helen Madigan, Andrea True, Ginger Snaps, Rita Davis, Marlene Foster, Ken Cass, Sherry Cass, Chris Jordan, Chris Jordan

Talented pornographer Jerry Denby deserves some credit for trying to make a real movie with THE BIG CON, currently reissued as THE BITE. Takeoff on the huge hit "The Sting" is very well acted for the genre.

Film gets off to an awkward start, after introducing Alan Marlow as Johnny, a two-bit con artist, in bed with luscious Helen Madigan. He gives her one of his phony radios (a scam where he sells them with the "insides" to be delivered later), but bums $50 as he sets off for Toledo. When he picks up Kate (Jennifer Jordan) on the road, their dialog is all in voice-over as we watch black & white stills of the duo, an annoying low-budget effect that fortunately is replaced by real Talkie action in the rest of the film.

Kate and Johnny hook up with the Toledo Kid (Eric Edwards) to scam a local bank officer Dobbs (Hardy Harrison). First they give the viewer a definitive education on the traditional "Badger Game" and then proceed to develop an elaborate con in which Dobbs virtually has to plead with them to part with $250,000 and become an investor in their non-existent chain of brothels.

Film is one of those strange hybrids, straddling the mainstream cinema and out-and-out porn. There is no hardcore footage until 22 minutes into the movie, when Jordan gives her co-stars a simultaneous hand job, just like the famous Stefania Casini scene with Depardieu & De Niro a year or two later in Bertolucci's 1900.

There's plenty of flesh and porn on view by the finish, but Denby emphasizes the story values and performances -making this film hold up well over 35 years later. The comic relief is also refreshing, including Dobbs getting his comeuppance.

The three stars were very busy performers during this period, but Jordan is especially effective: she was also giving outstanding performances in a variety of films by Roberta Findlay and Joe Sarno. Dixieland score by Tommy Charles & Michael Face (pseudonyms) is entertaining, while Victor Milt delivers pro photography.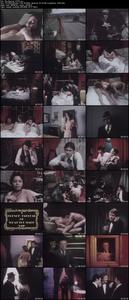 The Big Con (1975)