Surrender In Paradise (1984)
Genre: Adventure
Country:
USA |
Director:
David I. Frazer
Language:
English |
Subtitles:
None
Aspect ratio:
1.33:1 |
Length:
80mn
Starring:
Crystal Holland, Diva, Ginger Lynn, Lois Ayres, Renee Tiffany, Stacey Donovan, Jerry Butler
Surrender in Paradise' represents everything that was great about 80s porn. Gorgeous, curvaceous women, lavish production values and a simplistic but effective plot combine to make this one of the greatest couple's flicks ever shot. Filmed entirely on location in some of Hawaii's most breathtaking locales, the film stars Jerry Butler as an escaped con who finds himself washed ashore on a deserted island after a jailbreak at sea. Well, not entirely deserted. It seems that the same storm that capsized his dinghy also wrecked the yacht of a group of beautiful fashion models on their way to a shoot. At first the six scrumptious stunners don't want anything to do with him. But eventually the luscious ladies find his swarthy survival skills too much to resist.
The flick represents the debuts of fresh-faced foxes Ginger Lynn and Stacey Donovan, both of whom show why they went on to be two of the biggest stars in 80s hardcore. Ginger's eager-to-please tryst with Butler shimmers with unleashed sexual excitement. From start to finish, this first-rate production delivers the goods. It looks great, the story is a classic fantasy, and the sex is blisteringly hot without ever lapsing into anything too rough or nasty. A great pick for couples or anyone into romantic yet frantic frolicking.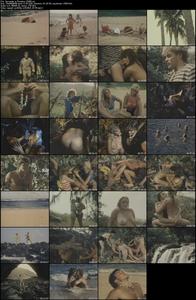 Surrender In Paradise (1984)